Norms and restrictions, body and perception – these were the themes of Berenice Olmedo's exhibition Hic et Nunc, which a class of the Schule für Gestaltung Basel dealt with during four busy mornings. After an exchange in front of and between the works, the students first approached the objects by drawing. In a second step, they shifted their focus to their own bodies and practiced their constant abstraction with the help of various playful drawing tasks. Substantial simplifications, distortions, and new combinations gradually led to their visual language, which was discussed, revised, and refined within a joint exchange. The final product, an essence of the preceding exercises, was finally realized as a linocut. These were available to a broad audience as a print on September 17, 2022, for the Theaterplatzfest: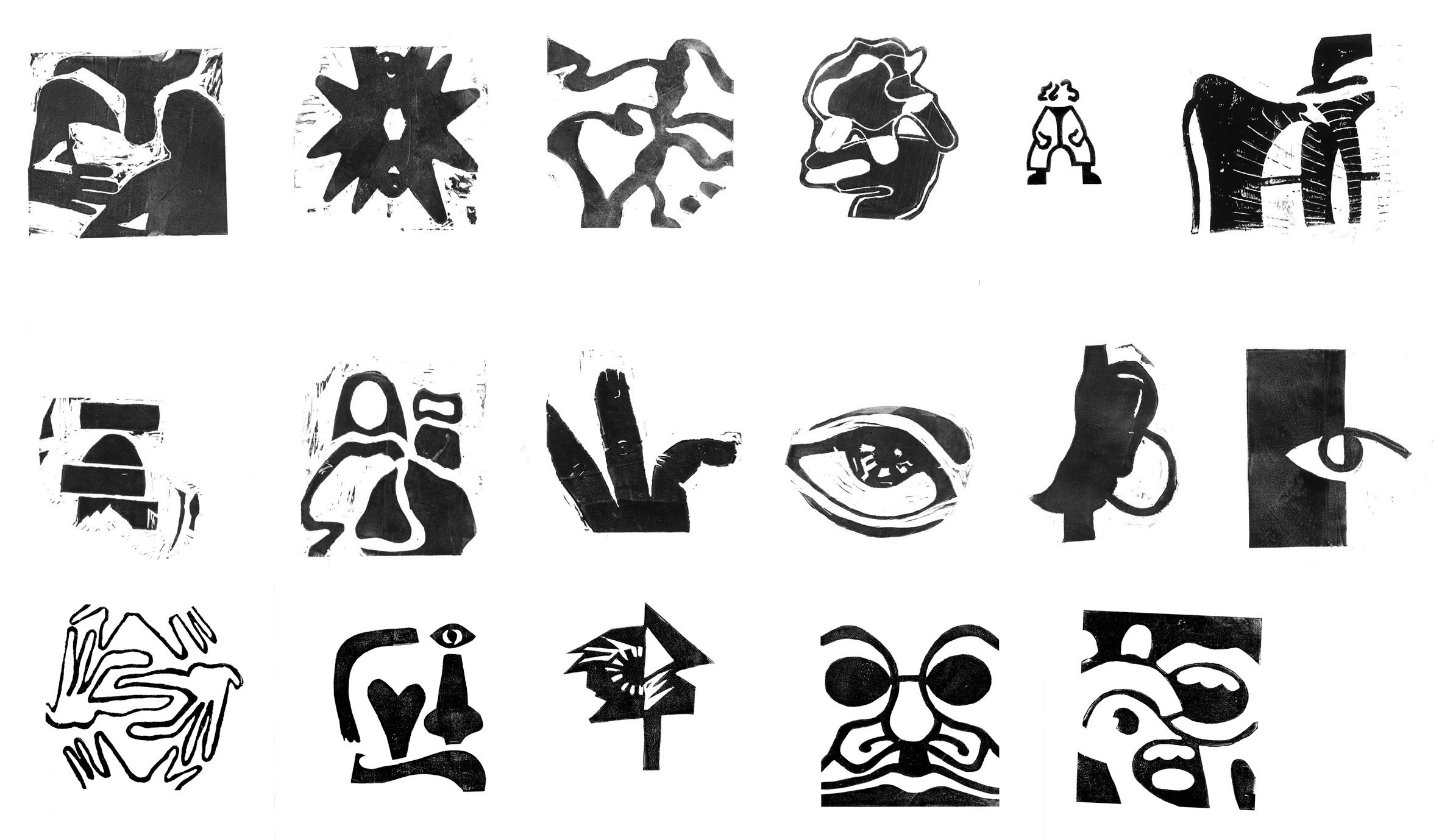 Over 200 interested visitors* of all ages participated in the public workshop during the neighborhood festival. They printed the freshly designed motifs on their bags, t-shirts, or small fabrics, ready for further processing. In addition, six motifs were selected by the Kunsthalle Basel team. These were available to visitors as washable tattoos:
The Theaterplatzfest provided a suitable platform for the design project: the forms of expression of the young people, who were about to decide on intensive design studies, were presented to a broad public for the first time and had to prove themselves. The participants left the project with a wealth of experience, composed of newly discovered works of art and artistic positions, as well as the development of their creative reaction and formal language to what they had seen.
The project was realized with the active support of Susanna Filep, a teacher at Schule für Gestaltung.
Contributors:
Böhler Sarah, Carrillo Guadarrama Gina, Choffat Meret, Erny Julika, Freidig Noah, Grieder Alyssa, Gschwend Sophie, Hug Sara Dominique, Jacot Nelle, Liebl Noah, Marbach Jasmin, Schärer Maila, Severino Erminia, Sikic Nina, Uluisik Vanessa, Vogt Finn, Yarzhynova Francheska, Zimmermann Noë, Zwygart Simon