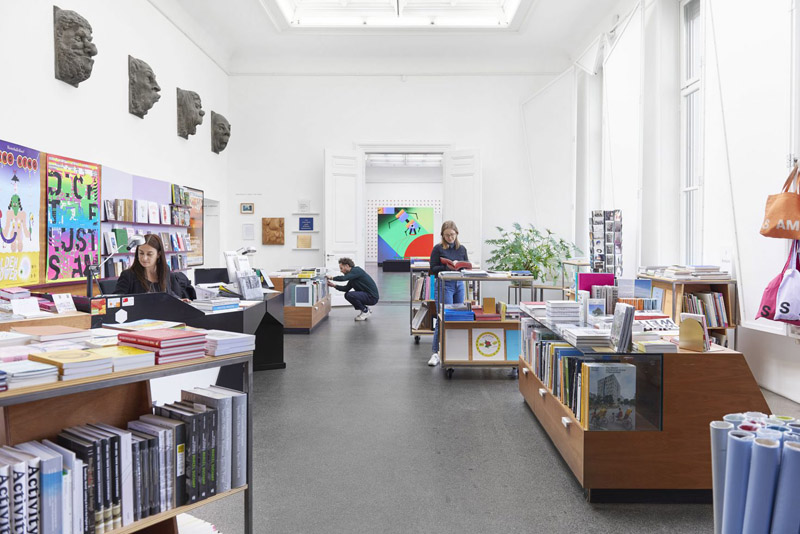 Our bookshop offers one of the city's most impressive selections of catalogs, monographs, and theoretical works about contemporary art and architecture. Alongside a wide array of the latest specialized magazines and books, new publications are added every month that relate to the exhibitions at Kunsthalle Basel and the S AM Swiss Architecture Museum.
Information T + 41 61 206 99 01
Current Book Recommendations
Joachim Bandau, Frühe Skulpturen 1967–1974
Early Sculptures, In this engaging catalog portraying Bandau's sculptural work from 1967-1974, we are invited to read texts by Eva Kraus, Thomas Heyden, Walter Grasskamp, and Astrid Manita reflecting on his work. It has a softcover, 29,7 x 23,8 cm, consisting of 150 pages, with numerous large-format photos taken by Bandau in color and black and white. The publication was published on the occasion of the exhibition opened at Neues Museum, Staatliches Museum für Kunst und Design in Nuremberg Germany exhibited in 2016. This riveting documentation of work is a political reflection of the human being and the combination of the machine, oppression, manipulation, the growing virtualization, and commercialization of people. Often Inspired by the human torso the shapes are minimalistic and slick, morphed, and sensual. Although the pieces were made in the late 60ies and 70ies they are still relevant to our developing society today.
Recommendation by Rinny Biberstein, Head of Reception and Bookshop
What's Next? Art after the Crisis: Reader edited by Johannes M. Hedinger and Torsten Meyer
A reader addressing contemporary art and solutions for after a crisis, or ideas regarding what could be original and influential for future art: a seminal artist, new ideas in the art world, art education, art and cultural studies, art practice and design, communication, and new media. This chunky collection of texts by more than 300 authors includes more than 170 essays, many interviews, and 150 theses. The writings are drawn from the last three thousand years, although the core of the texts were written in the last century. The discussions are wide-ranging, addressing the production, distribution, and reception of art in a global context and the underlying systems driving it.
Recommendation by Rinny Biberstein, Head of Reception and Bookshop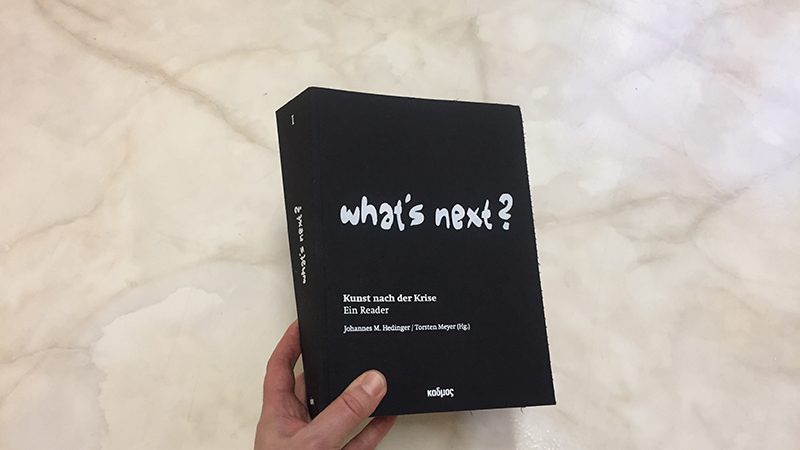 Of Other Spaces, Where Does Gesture Become Event?: Edited by Sophia Yadong Hao
A book gathering, commemorating, and celebrating texts by women artists on women artists and artworks, mainly from the 1970s and 1980s. This exhibition catalogue inspired by the12-Hour Action Group International Symposium and exhibition builds dialogues on organization, collaboration, practices of resistance, and the dynamic construction of an open dialogue that acts against the mainstream. The title is an homage to Hannah Arendt, who considered politics a space of appearance — a way of being seen and heard. If we consider the political world a volatile one, this book calls for action towards and against the resisting forces of power, and the ability to think otherwise and provoke inside of an existing system.
Recommendation by Rinny Biberstein, Head of Reception and Bookshop

Corona Tales, Let Life Happen to You 

by Chus Martínez, was written and published in 2020 as the Coronavirus pandemic had just started to take its toll on the world. Originally written as daily Instagram posts and reflecting on Martínez's upbringing and grandparents who lived through the Spanish flu, she relates tales told in a family over time—some true, some exaggerated by her imagination. Triggered by the similarities of the Spanish flu and the Coronavirus pandemic, the author's will to connect with her family and friends, to be present for her students, and to build bridges during a time of lockdown and social distancing was strong. She created a daily writing ritual enabling her words to cross borders, into hearts and minds, writing a story a day, for 100 days. These generous tales beget even more generosity: 100% of the proceeds of book sales go to Kunsthalle Basel's activities, donated by Martínez.
Recommendation by Rinny Biberstein, Head of Reception and Bookshop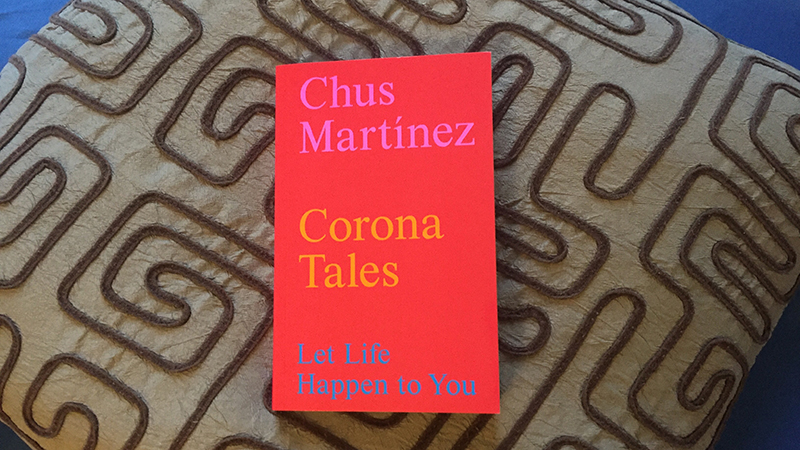 The book tells a whole life story. The life of artist Lilly Keller. In conversation with Fredi Lerch and as a literary portrait she goes back in history. She remembers earlier times when she was in search of her own art and the encounters with famous names at the time. She describes the art scene of the 1950s and 60s in Bern and her private universe La Fenettaz in a Vaudois farmhouse. Her collages, oil paintings and later self-woven tapestries are inspired by nature and the collection of rare bamboo varieties from all over the world growing in her park. The many anecdotes from the past take you back in time. Her comments up to the present day give insight into her world of thoughts and into a life worth living. "With will you achieve nothing. In art, will is the worst thing. The next thing just comes. You just can't want it". (Lilly Keller)
Recommendation by Eveline Wüthrich, Assistant Bookshop

The fascinating thing about Carl Andre is that his artistic practice is just as full of signs and forms as it is of free spaces and gaps. This is also reflected in the catalogue and his large-scale installation Black Wholes in the galleries of Kunsthalle Basel from 2005. The handy catalogue conveys the clash of principles of order that are typical of Carl Andre – the unconditional minimalist who is also a lover of detail. Andre loves constructed labyrinthine lines and fields. With many large-format photographs, interviews and notes, the 63-page catalogue leads us through Andre's meditative rhythm of graphite stones and cubes, his concrete poetry and lyrical fragments. Black Wholes makes us suspect that there is something to be discovered where we thought we only saw gaps.
Recommendation by Maximilian Rück, Reception and Bookshop Deputy Head
When moving and sometimes maneuvering our body through the everyday world, we direct ourselves physically towards or away from objects and other bodies. In her book Queer Phenomenology, Sara Ahmed reveals how our orientation and navigation form our social relations and how queerness manages to disrupt and reorder these routines. Practically, Ahmed's philosophical writing helped me prepare to give guided tours through Bizarre Silks, Private Imaginings and Narrative Facts, etc., a group exhibition by Nick Mauss. It features the works, some of which were highly discussed or gave rise to controversies at their time, of artists that deal (provocatively) with typical issues of the queer body such as (in)visibility, prejudice, HIV, and silencing. Their relevance has not vanished over time and so they still remind us today, like Ahmed's writings, to claim and "reinhabit" spaces.
Recommendation by Katrin Krumm, former PR & Communication Assistant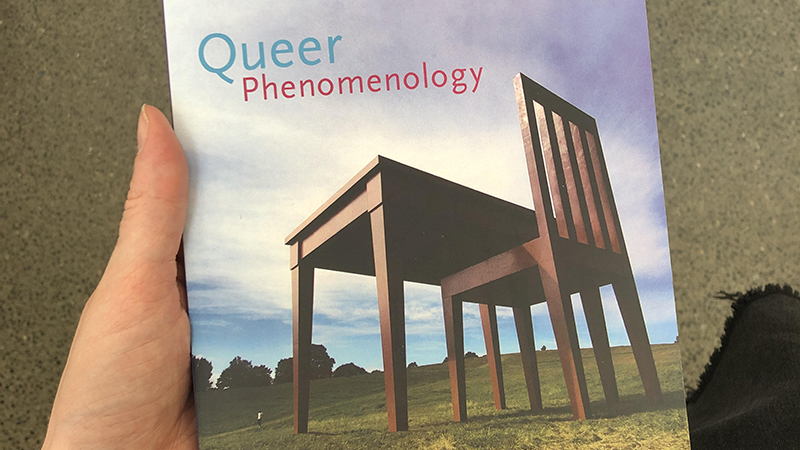 When we look at the concept of reconciliation, we find very different definitions. Is reconciliation an individual affair, a necessary means to continue living together or a political task? On the basis of the exchange of letters between Arendt and the National Socialist and philosopher Heidegger, the authors approach this question in On Reconciliation. The friendship of the two shows how to deal with ethically unacceptable opinions. The focus here is on the separability of work and author. As a possible solution, Thomas pleads in his essay for a suspension of philosophical authority. "If [Heidegger] was so completely wrong in this respect – where else was he wrong?" asks Thomas and shows that a separation of work and author is not necessary for reconciliation – rather, we must practice critical reading.
Recommendation by Fiona Kauer, former Reception and Bookshop Assistant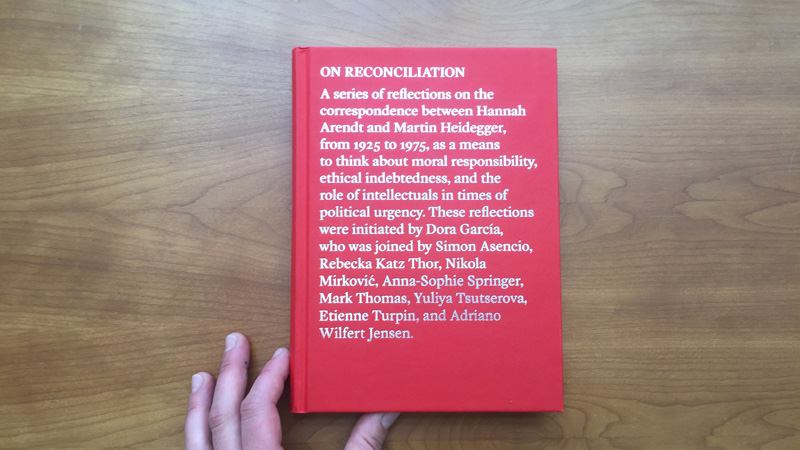 Valentine Schlegel: je dors, je travaille gives insight into the life and work of the French artist Valentine Schlegel. Schlegel was born in 1925 in Sète, a port city in south-eastern France, growing up in a family of craftsmen it shaped her relationship with tools and her love of handmade things. She created curvaceous ceramic vases whose contours are inspired by the outlines of plants and shells, stoneware pipes in the shape of birds and sculptural plaster fireplaces. With poetic photographs, the book shows how Valentine Schlegel lived simply and yet very enjoyably in the South, it also deals with the problem of creating art that is designed for personal spaces and therefore has little room in the museum system. This also explains Schlegel's unfortunate limited museum presence and makes the book for me all the more important.
Recommendation by Salomé Neuhaus, Reception and Bookshop Assistant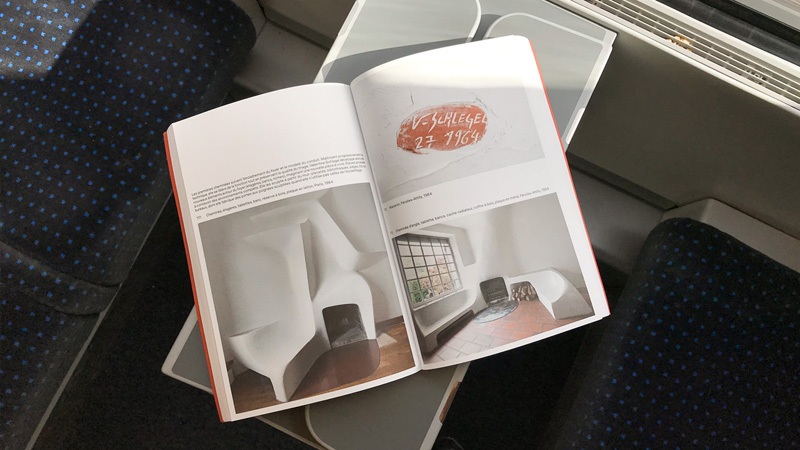 An in-depth history of Carol Bove's work, beginning in 2015 London, we meander between sculptures and installations, jumping back to '98, Brooklyn, developing chronologically afterwards, focusing on Boves numerous styles and career as an artist. Herbert heightens our awareness towards decoding her work, deepening the art history and objectiveness it conducts and sharing an image every 4-6 pages. We learn Bove's pieces in '98 are inspired by pin-ups from the 60'ies, later creating installations, quoting artists, linking her work to feminism, Buddhism, peacock feathers, driftwood, to name just some of the materials she uses. Giving herself rules, allowing herself to break them only to press on with the development of her work. An easy to carry book, the cover a grass green close up of one of her latest works, Icon, 2019. I can highly recommend it, it's inspiration is endless.
Recommendation by Rinny Biberstein, Head of Reception and Bookshop
There are several catalogs by the German-Iranian artist Bettina Pousttchi that I like to leaf through – especially in her illustrated book Framework. With her photographs and sculptures, Pousttchi touches on moments that permanently accompany us in our everyday lives. In her work, I discover over and over again places where my own path has led me: Her gigantic installations at the Messeplatz in Basel and in the Frankfurt Kunsthalle or her provocative but sensitive miniature replica of the Palast der Republik in Berlin. Although I haven't seen Pousttchi's solo exhibition at Kunsthalle Basel in 2011 myself, I can wander through her installation with the catalog Framework. The oddly piled up crowd barriers, photographs of screen-distorted clocks, and airport scenes address me visually, unsettle me and make me curious.
Recommendation by Maximilian Rück, Reception and Bookshop Deputy Head
Humorous, sophisticated, practical … many adjectives apply to the small-format booklet Wie man Bücher klaut (engl. How to shoplift books) by David Horvitz. On 80 pages, the American artist brings together a total of 80 suggestions written in large typeface on how a book can be stolen from a bookstore and thus answers a question I have never asked myself before. His ideas range from short and concise pragmatic tips to complicated and detailed descriptions. These stimulate my imagination and make me grin – the humorous character of this booklet leaves a philosophical note that inspires me. Be it for stealing books, for the creative realization of a theme or for expanding your own horizon.
Recommendation by Nora Weber, Reception and Bookshop Assistant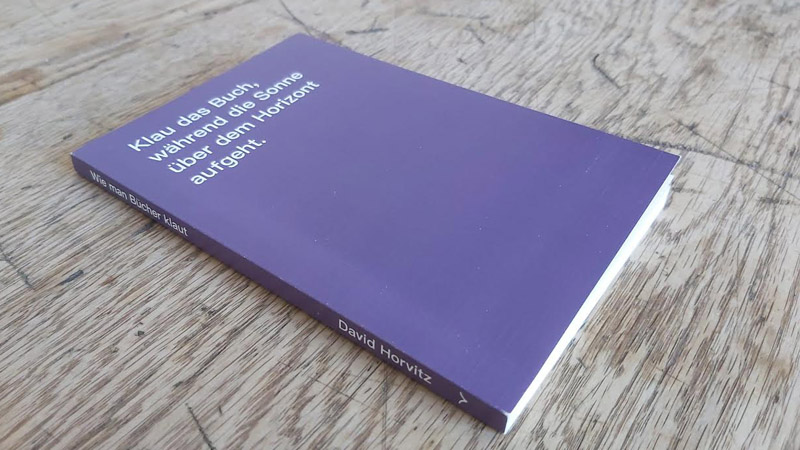 Its spine reads, SONTAG, in bold letters. It's cover, a black and white picture of its glamorous muti-hyphenate subject: critic-intellectual-cinephile-diarist-novelist-playwright-activist-filmmaker-diva, Susan Sontag. I'm reading it because Sontag was a ferociously astute reader of culture whose writing never ceases to inspire me personally—both for what she, in her most incandescent moments, did better than anyone else and also for what she sometimes failed to do. Call it inspiration through absence! In between and around its covers and spine are 816 pages of hard-nosed biographical investigation, catty details, unsparing facts, and some cheap psychological interpretations, but above all gorgeous writing about Sontag, the writer, the human, the lover, and let's just say it, the selfish meany. In other words, enough pages to accompany you when you need a looong distraction.
Recommendation by Elena Filipovic, Director