Data processing and information flow, algorithms and artificial intelligence, digital currencies, and encrypted networks – these were the topics of the exhibition INFORMATION (Today), which a class of the Schule für Gestaltung Basel dealt with during three busy mornings. After an intense oral exchange in front of the works, the students approached what they've seen with different drawing exercises, looking for unique structures, motives, or symbols. Strong simplifications and drawing abstractions gradually led to a visual language discussed, revised, and refined within an exchange. In teams of two, the class developed their shapes and symbols, inspired by the many patterns they had already encountered in the exhibition. From the resulting graphic products, Kunsthalle Basel team selected the four most expressive positions, which were then available to a broad audience as silkscreen artwork at the Theaterplatzfest on September 11, 2021: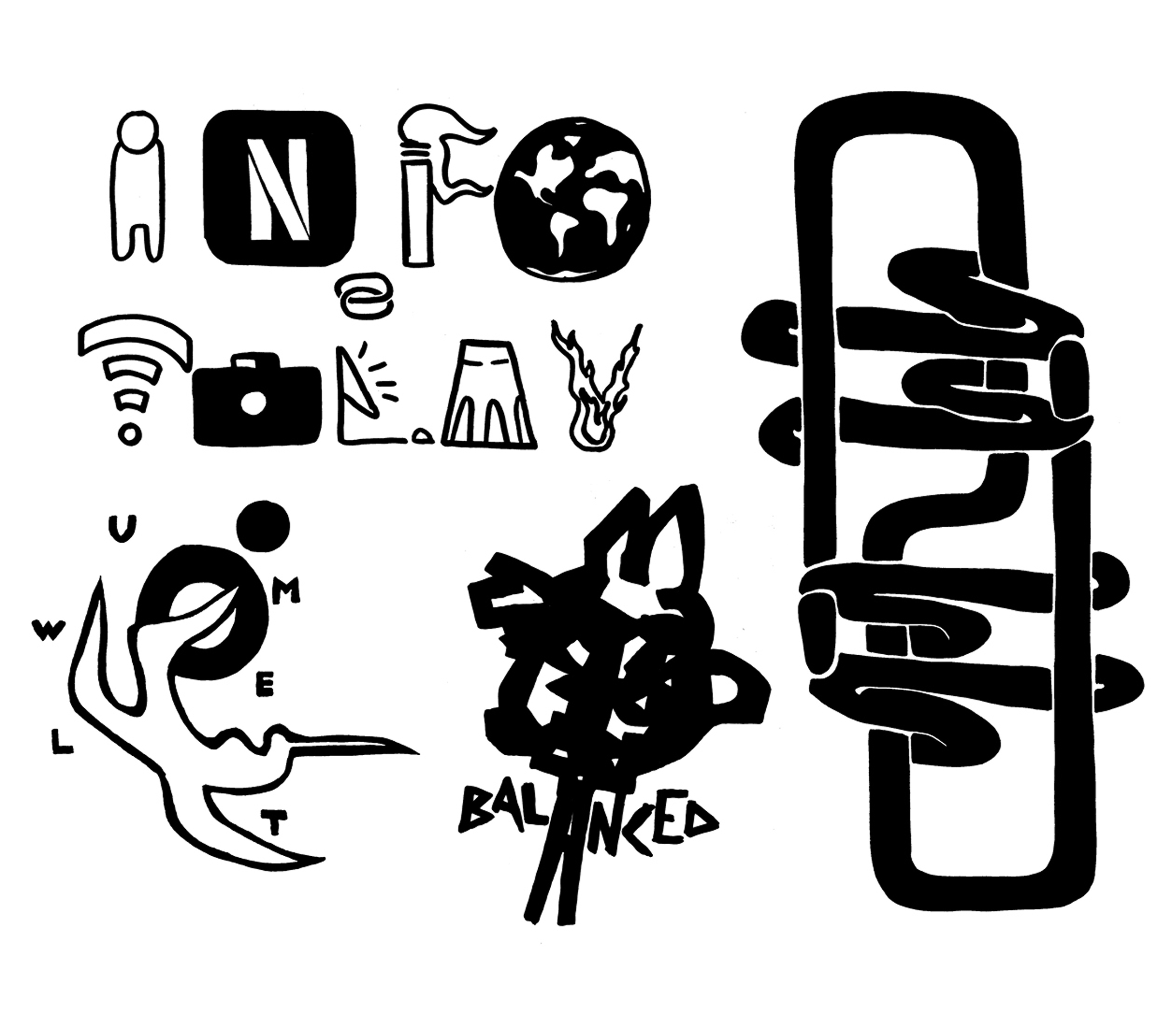 Over 200 interested visitors* of all ages took part in the public workshop during the neighborhood festival. They printed the freshly designed motifs on the bags, T-shirts, or shirts they had brought along. In addition to the four motifs available as screen prints, all of the class's results were produced as postcards and were available for anyone interested in taking them home:
The Theaterplatzfest provided a suitable platform for the design project: the forms of expression of the young people, who are about to embark on intensive design studies, were presented to a broad audience for the first time and had to prove themselves in public. Form and content were put to the test – could the exhibition reference still be recognized? Was it reproduced, or were own ideas also processed? What power do symbols and signs have? Some of these questions could be discussed in the middle of the exhibition based on the graphics created. The participants left the project with a wealth of experience, composed of newly discovered works of art and artistic positions and the development of their creative reaction and formal language to what they had seen.
The project was realized with the active support of Susanna Filep, teacher at Schule für Gestaltung, and Gaspard Weissheimer from DRUCKBUS Basel.
Contributors:
Azra Bagci, Kaltrina Behrami, Elina Büchi, Gloria Colzani, Diara Diop, Nadja Dörflinger, Onyeka Fricker, Giorgia Golay, Anne Holmegaard, Chris Javed, Finn Kern, Henriette Loosli, Milena Sinigaglia, Noemi Steinmetz, Jonas Stuke, Robert Windhövel, Elena Zihlmann