Kunsthalle Basel
Kunsthalle Basel has been a major venue for art in Basel ever since its foundation stone was laid in 1869. The Kunsthalle was initiated and established by the Basler Kunstverein (Basel Art Association), the private institution still behind the Kunsthalle today.
On the occasion of its inauguration in the spring of 1872, the President of the Basler Kunstverein, Johann Jakob Im Hof, outlined the aims of the new Kunsthalle: it was to provide a place for the fine arts that would foster friendly relations between artists and art lovers and would stimulate, promote and spread artistic interest in its hometown.
The neoclassical building at Steinenberg 7 was built according to plans by the Basel architect Johann Jakob Stehlin. Situated in the immediate vicinity of the Stadttheater and the Stadtcasino, which serves as a concert hall, it forms the third pillar in a cultural ensemble unifying theatre, music and the fine arts.
In the early years, the Kunsthalle's galleries and rooms were used primarily to house and present the art collection of the Basler Kunstverein. The direction of its art policy, which at the beginning was still indebted to nationalistic ideals, was soon revised. The appointment of a curator to take over the running of affairs, which up to the end of the 19th century had been coordinated by volunteers, paved the way for a modern and flourishing programme of exhibitions.
It is not without pride that Basler Kunstverein looks back on a long succession of exhibitions which not only provided stimuli for the development of art in the 19th and 20th centuries but can, in retrospect, undoubtedly be seen as pioneering events. Solo exhibitions dedicated to the works of Ernst Ludwig Kirchner, Edvard Munch, Vincent Van Gogh, Marc Chagall, Paul Klee, Emil Nolde and Piet Mondrian are among the more illustrious examples testifying to the early and open-minded reception given to these artists in Basel. Kunsthalle Basel further broadened its perspective when it became the first institution to introduce the European public to The New American Painting by organizing a comprehensive presentation in 1958.
The Kunsthalle Basel sees itself today as an interface between artists and art agents, a meeting place for local and international contemporary art and a hub for critical discourses about creating art and bringing it to a wider public.
The Basler Kunstverein and the origins of the Kunsthalle
The desire for permanent exhibition premises was being separately expressed within the spheres of the Basler Kunstverein and the Basler Künstlergesellschaft (Basel Society of Artists) in as early as the 1840s.
The foundation of the Basler Kunstverein in 1839 came at a time when great efforts were being made to promote the arts in Switzerland as a whole. Thus the Kunstverein's statutes demanded that it should contribute to the "elevation of Swiss art" through art exhibitions and the "acquisition of art products". The Kunstverein therefore launched the "Allgemein Schweizerische Kunstausstellung" (General Swiss Art Exhibition, 1840), a touring exhibition that subsequently became known simply as "Turnus". The exhibition, held every two years in different Swiss cities, always began in Basel. The inaugural show had to be staged in the Markgräflerhof building, which was shortly afterwards converted into a hospital. In 1841 the Kunstverein redeemed its pledge to show regional art with a retrospective of Basel art of the past three centuries, this time held in the Baslerische National-Museum. For its "permanent" shows, organized on an ad-hoc basis and designed to give local artists a showcase and sales platform for several months at a time, the Kunstverein had to resort to rooms in the Stadtcasino, the "Rotes Schulhaus" in Rittergasse and the premises of the Allgemeine Lesegesellschaft reading society.
It was not until 1864, following its merger with the Basler Künstlergesellschaft, that the Kunstverein's desire for its own exhibition premises were for the first time brought within reach.
The Kunsthalle building and its use
In 1854, Johann Jakob Imhof, at that time a member of the board of the Basler Künstlergesellschaft (Basel Society of Artists, founded in 1812), started up a ferry service across the Rhine at Basel. The profits were directed to a fund intended to finance the building of a clubhouse and art gallery. In 1864, upon the merger of the Basler Künstlergesellschaft and the Basler Kunstverein, which also had funds at its disposal, sufficient money was finally available to purchase a site (the area between Steinenberg and Klostergasse was selected) and retain the architect Johann Jakob Stehlin to create a design. Stehlin took inspiration from the neighboring Stadttheater, also designed by him.
The building, which originally had a rectangular ground plan, has its main entrance on Steinenberg. The ground floor initially contained the permanent collection of the Kunstverein, a library, conference rooms, and a clubhouse for the organization's members; today the ground level houses the popular Restaurant Kunsthalle. The first floor, with its monumental galleries with overhead skylighting, was and still is used for rotating exhibitions. The artistic decorations by Arnold Böcklin, Carl Brünner, Ernst Stückelberg, and Charles Iguel were intended to visualize, in the spirit of their epoch, the history and programmatic mission of the Kunstverein.
Stehlin's building was subsequently extended to include a sculptor's studio facing the courtyard as well as some adjacent offices—today home to the Campari Bar—and several further extensions have since been added. In 1885 the foundation stone was laid for a sculpture hall, and in 1898 the garden wing above the studios was raised by one story. With the elevation of the sculpture hall by one office floor in 1927, the Kunsthalle complex assumed the exterior appearance it presents today.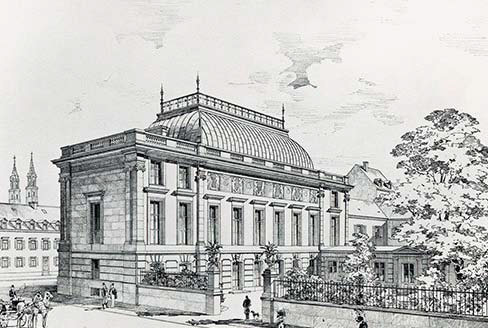 Over the course of the twentieth century, building maintenance put the Basler Kunstverein under increasing financial strain. It was therefore decided to lease the main building and the side wings on a short-term basis to the State, which used the Kunsthalle to accommodate Basel's public art collection, left temporarily homeless while the new Kunstmuseum was still under construction. The financial situation continued to be critical, however, and in 1950 the organization came very close to accepting a tempting offer from a major bank. In the proposed deal, the Kunstverein would have sold the building, which would have been demolished, and rented premises in the bank's new construction on the site. But fortunately these plans came to nothing, and instead the building was thoroughly renovated between 1969 and 1973.
Since June 2004 Kunsthalle Basel has resumed its former grandeur. Commissioned by Basler Kunstverein, the architects Miller & Maranta modernized the building to allow for the flexible uses necessary for a contemporary art and culture institution. The overall proportions remain the same, but the rooms on the lower floor have been integrated. The light-filled, airy galleries, laid out on one level, are easy for visitors to negotiate and allow works of art to be experienced in rich and varied constellations according to the curatorial concept underpinning each show.
In keeping with the founding idea, Kunsthalle Basel celebrates its 150th birthday in 2022 with a variety of activities that will stimulate, promote, and disseminate interest in art and foster friendships. You can find more information here.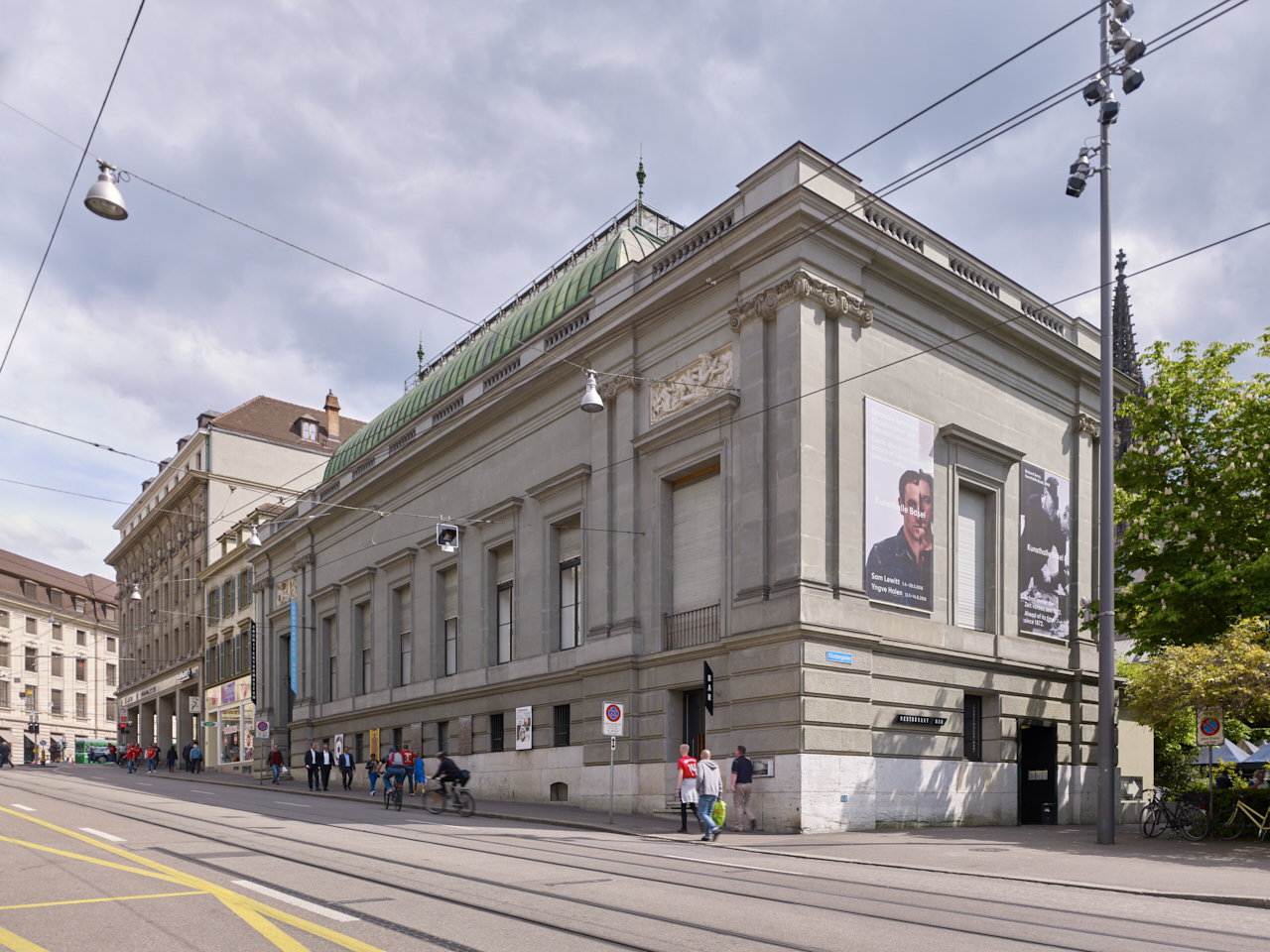 Exhibition History
The Basler Kunstverein (Basel Art Association) is the private association that has continuously supported Kunsthalle Basel's operations since the latter's founding. The organization's cofounder and first president was the textile manufacturer and (later) mayor of Basel, Felix Sarasin (1797–1862). Sarasin felt that the time had come for a new local association dedicated to the promotion of the arts—one that would play an active role within the nascent national umbrella organization, the Schweizerischer Kunstverein (Swiss Art Association).
1840–1908: First exhibition, construction of Kunsthalle Basel, first director
The first show organized by the Basler Kunstverein was Allgemeine Schweizerische Kunstausstellung (General Swiss Art Exhibition) in 1840. Since the Kunstverein did not yet have permanent premises of its own, it made use of the Markgräflerhof, which was standing vacant at that time. Subsequent exhibition venues included the Basel Nationalmuseum, the Stadtcasino concert hall, the Rotes Schulhaus, and the rooms of the Reading Society.
Nearly simultaneously, in 1842, the more or less defunct Basler Künstlergesellschaft (Basel Society of Artists) revivified itself under President Johann Jakob Imhof, and in 1854 started operating ferry services across the Rhine as a means of generating revenue. It likewise had no premises of its own, and the desire shared by both associations for a permanent home was one of the motivating factors behind their merger in 1864. With the income from the ferries and the Basler Kunstverein's capital, major projects such as the construction of the Kunsthalle suddenly became possible.
The area between Steinenberg and Klostergasse was chosen as a suitable site, and the architect Johann Jakob Stehlin was commissioned to design the building. Stehlin took inspiration from the neighboring Stadttheater, also designed by him. Together with the Stadtcasino, the three buildings form a distinctive architectural feature of Basel's city center, unifying music, theater, and the fine arts in an urban ensemble.
The task of organizing exhibitions in the new institution, which opened in 1872, continued to be left mostly up to committee members or associated persons. This changed in 1909, when Wilhelm Barth was appointed the first director.
1909–34: Wilhelm Barth. "Die Brücke", Matisse and Braque: first international exhibitions
Wilhelm Barth (1869–1934), a landscape and portrait painter who had spent some time in France, grew slowly into the role of an exhibition specialist. He had studied the art history of earlier centuries, and his understanding of more recent art was greatly influenced by the eminent art historian Heinrich Wölfflin, then a professor at Basel University, whose seminars he attended. Barth was keen to provide a platform for contemporary art within the context of Switzerland as well as Europe, and he was particularly interested in French Impressionism and its influences.
He showed Vincent van Gogh (1924) and Paul Gaugin (1928). His early Pablo Picasso exhibition of 1914 created a stir, as did his excursions into German painting, starting with a show devoted to the artists' association Die Brücke (1913). The exhibition Moderne Deutsche Malerei (Modern German Painting, 1921) was staged with the assistance of the Basel sculptor Alexander Zschokke. Solo shows of Ernst Ludwig Kirchner (1923), Emil Nolde (1928), and Max Beckmann (1930) followed. In 1918 Barth caused indignation with Das neue Leben (The New Life), the first exhibition to showcase cubist tendencies in the work of local artists. He later turned his attention back to French art with shows on Henri Matisse (1931), Georges Braque (1933), and Marc Chagall (1933).
1934–49: Lucas Lichtenhan. Concrete art and Monets Water-Lilies
Lucas Lichtenhan (1898–1969), appointed director at Wilhelm Barth's recommendation, continued the tradition of presenting French art. The opening years of his tenure featured exhibitions of André Derain (1935), Paul Cézanne (1936), Maurice de Vlaminck (1938), and Eugène Delacroix (1939).
For assistance in the area of the contemporary avant-garde, Lichtenhan consulted the archivist and later director of the Kunstmuseum Georg Schmidt, resulting in exhibitions such as Konstruktivisten (Constructivists, 1937), Neue Kunst in der Schweiz (New Art in Switzerland, 1938), and Konkrete Kunst (Concrete Art, 1944). Alongside established Basel artists, Lichtenhan also showed Gruppe 33 in 1934, a young artists' association of the same name formed only the year before.
Given the great difficulty of international art loans during World War II, exhibitions of this period increasingly revolved around pieces from Basel private collections. In the post war years Lichtenhan once again organized a number of solo shows of international modern art: Piet Mondrian, Henri de Toulouse-Lautrec, Oskar Kokoschka, and Vincent van Gogh in 1947; Juan Gris, Georges Braque, and Pablo Picasso shown in a group display in 1948; and a large-scale exhibition of French Impressionism in 1949, at which Claude Monet's Water-Lilies was seen for the first time outside France.
1949–55: Robert T. Stoll, ancient Egyptian art and Fantastical Art of the 20th Century
Robert T. Stoll (1919–2006) studied German, art history, and archaeology in Basel and was a junior lecturer at Cambridge before taking over as director at the age of thirty. Dr. Christoph Bernoulli was assigned by the Kunstverein committee to support him as a kind of mentor. Bernoulli was behind the exhibitions of tapestries from the High Middle Ages and of old silver held during Stoll's term in office.
Alongside exhibitions devoted to the Paris avant-garde, Stoll also showed Der Blaue Reiter, 1950 and Phantastischen Kunst des XX. Jahrhunderts (Fantastical Art of the 20th Century, 1952), the latter curated firmly on his own.
Stoll also ventured regularly into other areas of world art, mounting exhibitions of Russian icons (1952) and ancient Egyptian art (1953). Under fire for the diversity of his program, the controversial director also had to battle with a disastrous financial situation. Given rising maintenance costs and falling takings of the on-site restaurant, the Kunstverein committee even considered a proposal from Schweizerische Kreditanstalt to demolish the existing Kunsthalle and integrate the art institution into a new high-rise complex that the bank wished to build on the site. Only the sale of the last Rhine ferry in 1954 prevented the Kunsthalle from having to give up its home. The following year, under pressure from the committee, Stoll was forced to resign.
1955–67: Arnold Rüdlinger. The Swiss and Abstract Expressionism
When Arnold Rüdlinger (1919–1967) took over as director, he had already earned national respect as a young director of Kunsthalle Bern. His appointment was strongly supported by Hans Theler, a member of the National-Versicherung board and a member of the committee (and later president) of the Basler Kunstverein. Theler was also the initiator of one of the most important corporate collections in Switzerland and part of La Peau de l'Ours, an association of collectors on whose behalf Rüdlinger made acquisitions.
In 1964 Rüdlinger devoted an exhibition to the Peau de l'Ours collection. In what remains his greatest contribution to the Kunsthalle, Rüdlinger orchestrated the very first presentation of American Abstract Expressionism in Europe. In 1958 the Kunsthalle played host to The New American Painting, organized by the Museum of Modern Art in New York, concurrently with a Jackson Pollock solo show.
Alongside solo shows of Mark Rothko (1962) and Franz Kline (1964), which documented his keen interest in American and international contemporary art, Rüdlinger showcased Swiss artists such as Karl Geiser (1957), Max Gubler (1959), and Varlin (1967). He was also interested in art from earlier epochs and tribal cultures, as evidenced by Meisterwerken griechischer Kunst (Masterpieces of Greek Art, 1960) and Die Kunst New-Guineas (The Art of New Guinea, 1962). He had a firm and lasting friendship with the artist Sam Francis, whom he scheduled for a solo show; this was held in 1968, a year after Rüdlinger's sudden death.
1968–73: Peter F. Althaus. The open Kunsthalle
Peter F. Althaus (b. 1931), who succeeded Arnold Rüdlinger after the latter's death, had previously been head of the Kunstmuseum Luzern for almost a decade. Althaus was an experienced museum director and editor in chief of the magazine Kunstnachrichten. With the architect Aldo Henggeler he co-authored studies on architectural and urban planning concepts derived from the ideas of structuralism. At the Kunsthalle he presented Swiss art in the figures of Paul Camenisch (1970), Rudolf Maeglin (1970), Robert Müller (1971), Jean Tinguely (1972), and Dieter Roth (1972), as well as international art such as the Sidney and Harriet Janis Collection (1970), Jean Dubuffet (1970), and Argentinische Kunst der Gegenwart (Argentine Art of the Present, 1971).
Right from the start of his tenure, Althaus voiced misgivings about the Kunsthalle as an institution and the exhibition as a medium. With the 1969 exhibition Für Veränderungen aller Art (For Changes of All Kinds), he created an artistic test bed for large-scale environments produced as collective works by young artists, to be experienced in a performative fashion. The public entered the Kunsthalle through a first-floor window in order to destroy the hierarchy imposed by the sequence of gallery spaces.
In the exhibition Das offene Museum—die Stadt (The Open Museum—The City, 1970), Althaus sought new ways of integrating the art institute into its civic surroundings and presented utopian urban planning solutions. Further politically motivated exhibitions followed, including Kunst und Politik (Art and Politics, 1971), curated by Georg Bussmann, and Kinder planen / Pop-Musik—Kommerz oder Revolte (Children Plan / Pop Music—Commerce or Rebellion, 1971).
Althaus designated the Oberlichtsaal as an Offener Saal (Open Room) for discussions, lectures, temporary exhibitions, and demonstrations. He came under pressure not just on account of these politically controversial experiments, but also due to the state of the Kunstverein's finances. Shortfalls in revenue from sales of works during exhibitions were compounded by the unexpected doubling of the costs of building renovations. Althaus reached an agreement with the board over his resignation and turned his focus toward teaching.
1974–78: Carlo Huber. Interim directors Werner von Mutzenbecher and Maria Netter
After Althaus's very political and conceptual method of working, Carlo Huber (1932–1976) returned to the tradition of international exhibitions, with a focus on American Minimalism. The first signs of Huber's terminal illness revealed themselves even as he took office, but in 1975 he nevertheless mounted notable solo shows of Robert Ryman, Dan Flavin, and Sol LeWitt.
After Huber's death in 1976, the artist Werner von Mutzenbecher and the critic Maria Netter—both members of the Kunstverein committee—took over on an interim basis. They continued the program of international and regional art with exhibitions of Panamarenko, Hans R. Schiess, and Marcel Schaffner (all 1977).
1978–88: Jean-Christophe Ammann. Art as event
In his decade at the Kunsthalle, Jean-Christophe Ammann (1939–2015) combined presentations of international art with exhibitions of local artists, just as he had done as head of Kunstmuseum Luzern. He explored the American scene in shows such as Drei New Yorker Künstler: Robert Moskowitz, Susan Rothenberg, Julian Schnabel (Three New York Artists, 1981), Bruce Nauman (1986), and James Turrell (1987). He picked out tendencies from Italy in 7 Künstler aus Italien (7 Artists from Italy, 1980) and Germany in 12 Künstler aus Deutschland (12 Artists from Germany, 1982). In solo shows he featured Alighiero Boetti (1978), Enzo Cucchi (1984), Francesco Clemente (1984), and Georg Baselitz (1984), Walter Dahn (1986), Rainer Fetting (1986), and a group show in 1986 featured Enzo Cucchi, Joseph Beuys, Jannis Kounellis, and Anselm Kiefer.
Ammann was likewise interested in photography and photorealism, as he had already demonstrated in the "Realism" section he collaborated on for Documenta 5 (1972) under Harald Szeemann. He pursued this interest at the Kunsthalle with the exhibitions Drei New Yorker Fotografen: Peter Hujar, Larry Clark, Robert Mapplethorpe (Three New York Photographers, 1982) and Franz Gertsch (1986). At the same time he kept a close eye on the young Basel art scene: 6 Basler Künstler (6 Basel Artists, 1981) featured Miriam Cahn, Rut Himmelsbach, Alex Silber, Anselm Stalder, Vivian Suter, and Hannah Villiger.
1988–95: Thomas Kellein. With the Telescope through Art History into the 21st century
With large exhibitions under headings such as Mit dem Fernrohr durch die Kunstgeschichte (With the Telescope Through Art History, 1989), Das 21. Jahrhundert—Mit Paracelsus in die Zukunft (The 21st Century—With Paracelsus Into the Future, 1993), and Welt-Moral. Moralvorstellungen in der Kunst heute (World Morality: Ideas on Morality in Art Today, 1994), Thomas Kellein frequently presented contemporary artists together with established, and in some cases significantly older, artists. In 1991, for example, he organized concurrent exhibitions of Ernst Wilhelm Nay and Cindy Sherman, and Martin Disler and Nam June Paik.
Kellein offered an almost encyclopedic parade of contemporary art, from Mike Kelley (1992) to Rudolf Schwarzkogler (1993), Andy Warhol (1993), Rachel Whiteread (1994), Hiroshi Sugimoto (1995), Roni Horn (1995), Gerhard Merz (1995), and John McCracken (1995). His desire to convey a comprehensive overview, which also manifested itself in extensive publications, tested the Kunsthalle's financial limits.
1996–2002: Peter Pakesch. "Painting on the Move": From Martin Kippenberger to Qiu Shi-hua
The Austrian curator and gallerist Peter Pakesch developed an international exhibition program hallmarked less by mainstream artists than by a close observation of developments in contemporary painting. Michel Majerus (1996), Albert Oehlen (1997), Martin Kippenberger (1998), Rémy Zaugg (1998), Qiu Shi-hua (1999), Christopher Wool (1999), Franz Ackermann (2000, 2002), and the group show Painting on the Move (2002, organized in conjunction with Kunstmuseum Basel), all testified to this specific focus.
Pakesch boldly looked both to the West and the East, as evidenced by solo exhibitions of Edward Krasinski, Franz West, Jason Rhoades and Diana Thater (all 1996), Olafur Eliasson, Pawel Althamer and Liz Larner (all 1997), John Bock, Candida Höfer, and Maurizio Cattelan (all 1999) and Stan Douglas (2001).
2003–2014: Adam Szymczyk. Critical concepts
Over the course of his eleven-year tenure, Adam Szymczyk, the Polish curator and cofounder of the Foksal Gallery Foundation, focused on conceptual, young, contemporary art. Alongside Eastern Europeans such as Piotr Uklanski (2004), Artur Zmijewski (2005), Dan Perjovschi (2007), and Jan Mancuska (2008), his program included shows devoted to Superflex (2005), Gustav Metzger (2006), Peter Friedl (2008), Goshka Macuga (2009), Danh Vo (2009), Matthieu Kleyebe Abonnenc (2013), and Adrian Melis (2013).
Szymczyk also formulated this enquiry in thematic exhibitions such as How to Work, and its successor, How to Work (More for) Less (both 2011). Other exhibitions centered on the construction and reconstruction of historical events, for instance QUAUHNAHUAC—The Straight Line Is a Utopia (2006), Report on Probability (2009), Strange Comfort (Afforded by the Profession) (2010), Regionale—The Village Cry (2010), and Ross Birrell and David Harding's Winter Line (2014). Szymczyk also enhanced the visibility of neglected positions in Western art history with retrospectives devoted to Lee Lozano (2006), Bas Jan Ader (2007), and Nasreen Mohamedi (2010).
2014–present: Elena Filipovic, experimental exhibition forms
In 2014 Kunsthalle Basel began another chapter in its history with the Los Angeles–born art historian and curator Elena Filipovic at the helm. The institution's first female director opened a new program of exhibitions, extending Kunsthalle Basel's venerable tradition of featuring emerging artists and experimental exhibition forms. The inauguration of this program was signaled by the start of performance artist Zhana Ivanova's first institutional solo show, conceived as an "ongoing retrospective" that will take place in chapters that span as long as Filipovic remains director. Also featured thus far have been artist-curated exhibitions by Mark Leckey and Vincent Meessen (both in 2015), as well as major solo presentations in 2015-16 devoted to Vincent Fecteau, Anicka Yi, Maryam Jafri, Andra Ursuta, Marina Pinsky, Sam Lewitt, Yngve Holen, Anne Imhof, Erin Shirreff, and Lynette Yiadom-Boakye. In 2017, solo shows with Sadie Benning, Maria Loboda, Yan Xing, Adam Linder, and Shahryar Nashat as well as the group show Ungestalt, about contemporary art that explores the undoing of form, marked the program. In 2018 Kunsthalle Basel devoted itself to performances with a month-long live-exhibition called New Swiss Performance Now, followed by solo exhibitions with Yuri Ancarani, Michael E. Smith, Raphaela Vogel, Luke Willis Thompson, Sanya Kantarovsky, and the third chapter of Zhana Ivanova's Ongoing Retrospective. In January 2019 the exhibitions Golden Shower by Wong Ping and Mammalian Fantasies by Daniel Dewar & Grégory Gicquel were opened. In the months and years that followed, exhibitions with Geumhyung Jeong, Dora Budor, Kaari Upson, Alex Baczynski-Jenkins, Joanna Piotrowska (all 2019), Camille Blatrix, Nick Mauss, Deana Lawson, Judith Kakon (back wall project), Raphael Hefti (all 2020), Joachim Bandau, Lydia Ourahmane, Matthew Angelo Harrison, INFORMATION (Today) (group exhibition), Yoan Mudry (back wall project), Michaela Eichwald (all 2021), Pedro Wirz, Alia Farid, Michael Armitage, Berenice Olmedo (all 2022), and the annually Regionale, were organized.